Action Homeless is a charity based in Leicester dedicated to tackling the causes and consequences of homelessness. We provide supported accommodation and resettlement services which seek to enable people who are homeless to rebuild their lives. We also undertake preventative work in the community to stop homelessness from occurring, especially amongst groups of people who are particularly at risk.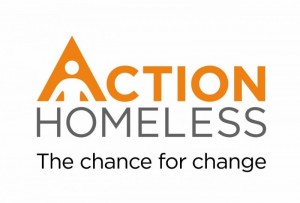 Service Information
Service Overview
Mayfield House offers up to 36 units of accommodation commissioned by Leicester City Council. The service provides emergency accommodation and support to those in crisis. Offering a planned program of support leading to independent accommodation. Mayfield House contains single rooms and is fully catered,
The Hollies (11 units) and Jarvis House (6 units) are commissioned accommodation that offer single rooms in shared, self-catered accommodation.
All three sites contain communal shared living, dining and bathroom facilities.
Mayfield House also provides emergency beds for rough sleepers, a severe weather service and a sit up service.
Additional services:
Accommodation Assist – 41 units of accommodation, providing a range of temporary accommodation solutions. This primarily consists of shared houses and flats. Self-referral is possible via our Duty Desk service.
Accommodation Assist – Action Homeless have renovated a number of empty properties in Leicester, including self contained flats, shared houses and family homes. They are offered as long term housing solutions to people leaving homelessness services. As with all other services, all queries and referrals are directed to the Action Homeless Duty Desk
Community Transitions Project – A project to support people as they transition from mental health services into settled accommodation.
Rough Sleeper Initiative – Accommodation and support services for rough sleepers.
Minimum Age
18
Restrictions
Those with a present history of arson, violence or sex offences. Women who's support and level of risk may/could pose a threat to young children and babies.
We ask that if you are unsure please call our Duty Desk and a member of our team would be more than happy to assist any enquiries.
Relevant People Groups
Asylum Seekers, Couple, Domestic Violence, Emergency Beds, Female, Male, Refugees, Single, Young People
Who Is This Service For?
Single men and women and in need of emergency accommodation. Some couples and family accommodation is available.
Contact Details
Referral Procedure
Referral Procedure
Mayfield House and our Commissioned Service is accessed via referral through Housing Options.
Accommodation Assist – Self referral via Duty Desk
Bridge House – Women & Children experiencing Domestic Violence. Self referral via Duty Desk.
Phone or call in at Housing Options Centre Mon-Fri 9am-4pm.
After 5pm or at weekends phone or call in at the Dawn Centre Conduit St, Leicester LE2 0JN. Phone 0116 221 2770.
Contact
Duty Desk
Address
Dependent of need and requirements; in the first instance please call our Duty Desk
Staff will assist you further to ensure you housing and support needs can be met.
Phone Number
0116 2211 857