October 20 2020 11:25 am
During the Winter 2019/20 Give Leicester campaign, local business Prana Cafe got in touch wanting to know how they could do more as a businesses to support the Give Leicester project. We caught up with Prana Cafe owners Sukh and Andie to find out more about their experience.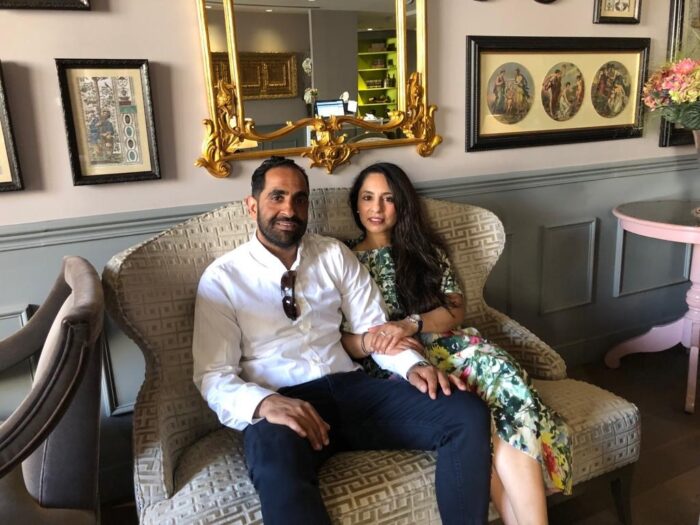 "We found out about One Roof Leicester and the Winter Night Shelter through BID Leicester. We really liked the idea of the Give Leicester project, making it easy and secure for members of the public to donate to charity.
Being based in the city centre, we see people who are homeless most days and we get to know their faces. It makes you think about your own family and realise how lucky you are. It is very easy to look the other way and not do enough to help. At Prana, one of our motivations in starting our business was to help people from all walks of life find their best health and wellbeing through food, so it was right as a business for us to look outwards to help others in the city as much as we can.
The BID Leicester team put us in contact with Salma, Manager at One Roof Leicester. It was great to chat to Salma about the great work One Roof are doing to help people experiencing homeless in the city, and to hear how they treat each guest as an individual to help them turn their lives around.
During the winter of 2019/20, we worked with Salma and One Roof to donate meals to the Winter Night Shelter. Once a week we provided the guests with warm, 100% vegan food – our business philosophy is based on serving food to nourish the body and the mind, food that can energise and set the guests up to achieve great things. We took extra care in the meals we selected because for many it was their first introduction to vegan food, so we wanted it to be flavourful and comforting to counter any stereotypes they might have. Feedback from the guests was positive, and as the weeks went on we found even the most sceptical and reluctant guests were brought round!
As businesses, 2020 has been a difficult year for us all, but it is important to have perspective and realise how lucky we are. We have all come to know the trauma of uncertainty in our lives – and when we reflect on this we should remember there are people who face this uncertainty every day, every year. It has been incredible to see the way that businesses have pulled together in the face of the global crisis to support the NHS and key workers – we would love to see this trend continue locally, where businesses and people give what they can to those in our community who need support.
If there is one thing we have learnt from our experience it is that everyone can make a difference. When we were interacting with the guests each week and hearing their stories, it is so clear what a positive impact it had on their lives. It is a beautiful feeling to give."
Feeling inspired? How your business can help…
As ever, charities rely on donations from members of the public and local businesses to maintain their services, but this year presents extra challenges. To keep their guests safe and their spaces Covid-secure during winter 2020/21, One Roof Leicester need to provide new items for each guest who is referred to them, such as: bedding, towels, non-perishable food items, toiletries and sanitary products. These are the essentials, but there are extra comforts that could also help – items like dressing gowns or slippers are the finishing touches that can make these spaces feel like a home. Can your business donate any of these items? Or perhaps you'd like to talk about other ways you can help? Get in touch with the team at sarinda@bidleicester.co.uk